About
NORTHWESTERN PRECISION TOOL AND DIE CO.
Northwestern Precision Tool and Die Company has been in business for 37 years, serving the Aerospace, Avionics and Defense Electronics Industry. This is a full-spectrum manufacturing tool and die company including Full Grinding Capabilities, Manual and CNC Equipment, Conventional and Wire EDM and High Speed Metal Stamping.
We specialize in the Highest Quality Progressive Dies and other Stamping Tooling from Full Design and Engineering to finished part.
Our History
Northwestern Precision Tool & Die Company has been in business since 1980. From the beginning there has always been a passion to produce the highest quality offering precision and the best possible quality for our customers. Our company offers high quality tools, dies, fixtures and gages for the aerospace avionics and defense electronics industry. The company offers metal stamping for the dies we build. If you have a requirement for metal stamped parts that require tooling, we can offer a competitive priced stamping service with minimal upfront tooling cost. This is what differentiates our company from other tool, die and manufacturing companies.
We have a specialized, close tolerance grinding department along with CNC machining capabilities and conventional and wire EDM equipment. Our shop offers a well balanced, efficient mix of services for the industry.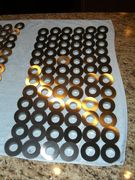 Others
My Contact Information 425-333-5201
Links to Other Sites